Very Good Recipes of Microwave from Authentic Vegetarian Recipes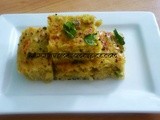 Instant Microwave Dhokla
By Authentic Vegetarian Recipes
07/31/13 10:42
The inspiration for making this recipe was Prachi Agarwal who posted pictures of the dhoklas she had made following this Youtube video link. The video was very useful for me and I too tried out the recipe. I doubled the ingredients as I wanted to make more...
Add to my recipe book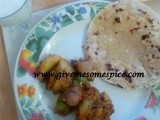 Stuffed vegetables (Bheralu Shak ) in the microwave
By Authentic Vegetarian Recipes
04/07/12 20:24
Vegetables stuffed with masala (spices) is one of my husband's favourite dishes. His ultimate favourite is Undhiyu. This dish is a just a copy using a few of the vegetables readily available in my part of the World. I made this dish when my sister was visiting...
Add to my recipe book