Very Good Recipes of Burger from Celebration Generation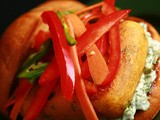 Paneer Burgers… or "Indian Cheeseburgers"
By Celebration Generation
05/09/13 13:15
A while back, one of my prison buddies MasterChef friends – Duckie – posted a photo of her dinner on Facebook. While that in itself isn't anything special – my FB news feed has been FLOODED with dinner pics, since coming home from this MC adventure – man,...
Add to my recipe book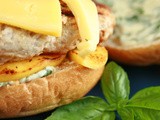 Apple Chicken Burgers with Basil and Gouda
By Celebration Generation
07/04/12 15:03
The other day, we were having breakfast at a local restaurant, when a menu card caught our eye. Among the various offerings was a chicken burger with roasted apple slices. Huh. That sounded kind of good, and we made the decision that I would have to take...
Add to my recipe book