Very Good Recipes of Salad from Celebration Generation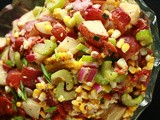 Roasted Corn and Potato Salad
By Celebration Generation
07/31/13 15:27
Today's recipe is one of my favourite, go-to recipes from my latest cookbook, "Sweet Corn Spectacular". When I created this recipe, I intended it to be a roasted take on a traditional — cold !— potato salad. But as soon as the dressing was tossed on the...
Add to my recipe book
Fancy Tea Sandwiches: Tarragon Chicken Salad and More
By Celebration Generation
06/25/13 14:35
Recently, I've been thinking about the fancy little tea sandwiches my mother used to make for parties when I was a kid. I have NO idea what put it in my head… but I remember how she'd buy unsliced bread, carefully slice it lengthwise, and make fancy little...
Add to my recipe book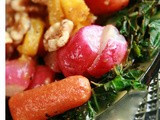 Roasted Radish Salad with Maple Dijon Vinagrette
By Celebration Generation
02/13/12 14:49
Another weekend, another few steps towards a normal house/life! I'll get more into what post tornado progress we made, after the recipe… but one thing we did this weekend was clear everything out from the fridge, completely wash it out, and then re-organize...
Add to my recipe book