Very Good Recipes of Egg from Celebration Generation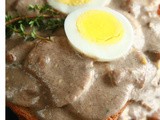 Mushroom Soup and Eggs on Toast (Gluten Free)
By Celebration Generation
05/14/12 16:27
So, I've written and deleted the first few paragraphs of this blog entry a few times. Who knew that writing a blog entry on a very simple comfort food from my childhood would be so complicated? Bottom line? Today's recipe was brought on by all of the Mother's...
Add to my recipe book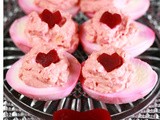 Valentine "Heart Beet" Eggs
By Celebration Generation
02/06/12 17:02
Lately, I've been seeing a lot of photos of Chinese Tea Eggs on Pinterest. They're really pretty! Basically, you hard boil some eggs, crack the shells, then steep them in a tea and soy sauce mixture, producing gorgeous designs all over the peeled egg. Partly...
Add to my recipe book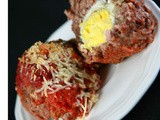 "Scotch Egg" Meatloaf Recipe
By Celebration Generation
11/26/11 15:34
Low carb. Potentially "Paleo-friendly". Gluten Free. Yep – a recipe that fits all those categories can be THIS tasty! When I was a kid, my mother used to make meatloaves formed around hardboiled eggs. Loved these "dinosaur eggs" then, and was inspired to...
Add to my recipe book