Very Good Recipes of Salsa from Cooking with Barry & Meta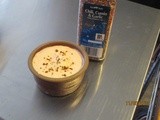 Turkey Dip: Ranch-Salsa Dip
By Cooking with Barry & Meta
11/07/12 06:54
We served this simple dip with veggies . . . that were arranged "turkey" style. Carrot and celery sticks form the outer feathers while pepper, cucumber and zucchini rounds form the body. The "face" is made up of the end of a green pepper (a 3-sectioned...
Add to my recipe book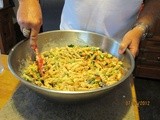 Salsa Pasta Salad . . . for a crowd
By Cooking with Barry & Meta
07/10/12 03:25
Barry mixes up a large batch of pasta salad. People used to ask for this recipe when I was catering. I didn't mind sharing but the truth is that I just added a little of this and that. I started out by adding Ranch dressing and veggies but the salad needed...
Add to my recipe book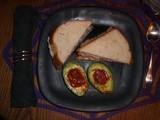 Avocado Salsa Salad
By Cooking with Barry & Meta
10/27/11 17:59
It's almost too simple to post! Actually it's not even a recipe but Barry's brainstorm! He simply cut an avocado in half (the long way), removed the seed but left the skin intact. Salsa was added to the seed cavity and it's ready to serve (use a spoon to...
Add to my recipe book