Very Good Recipes of Sweet from Cooking with Barry & Meta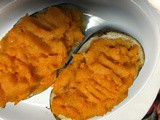 Double the Flavor—Twice Baked Potato stuffed with sweet potato filling
By Cooking with Barry & Meta
02/13/15 16:06
Baked Russet Potato + Baked Sweet Potato = Calorie-conscious stuffed potato with twice the flavor that loaded with nutrients! Inspired by a combo baked potato prepared by Joan Thayer, I simply baked two potatoes (one russet, one sweet potato, cut each in...
Add to my recipe book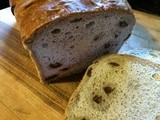 Sugar, spice, dried fruit and nuts — Sourdough Sweet 'n Spicy Bread + Quick Overnight Sourdough Starter
By Cooking with Barry & Meta
07/01/14 16:33
I always keep sourdough starter in the fridge (made from yeast – see recipe below), and usually make sourdough French bread. But every once in awhile, I make this breakfast bread which is great for toast. It is a recipe I adapted years ago and it remains...
Add to my recipe book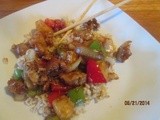 Sweet & Sour Pork . . . as good as take out without the breading and deep fat frying
By Cooking with Barry & Meta
05/26/14 23:55
Duane Newell came up with his lightened version of the breaded and fried sweet and sour pork that is often on the buffet at Chinese restaurants. He sent it to me with a recommendation to give it a try. He also said to vary it as I saw fit; took him at his...
Add to my recipe book