Very Good Recipes of Nut from Cooking with Barry & Meta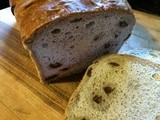 Sugar, spice, dried fruit and nuts — Sourdough Sweet 'n Spicy Bread + Quick Overnight Sourdough Starter
By Cooking with Barry & Meta
Subscribe
07/01/14 16:33
I always keep sourdough starter in the fridge (made from yeast – see recipe below), and usually make sourdough French bread. But every once in awhile, I make this breakfast bread which is great for toast. It is a recipe I adapted years ago and it remains...
Add to my recipe book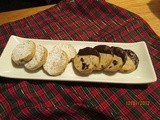 Slice 'n Bake – Fruit & Nut Shortbread
By Cooking with Barry & Meta
Subscribe
12/10/12 18:13
Slice and bake "icebox" cookies are handy and appeal to my desire to do things in steps. I can make the cookie logs a couple of weeks early and either refrigerate or freeze. Then, I can slice and bake as many (or few) as I might need. The recipe is variable...
Add to my recipe book