Very Good Recipes of Crock pot from Do You Smell That!!?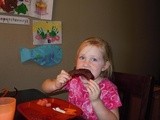 Babyback Ribs... in the Crock Pot
By Do You Smell That!!?
Subscribe
10/01/11 07:07
I've mentioned it before. I have meat issues. One of them is that I cannot eat meat off of the bone. It just totally skeeves me out. I really, truly cannot remember a time that I have eaten anything that had a bone - maybe as a kid I ate a drumstick? Maybe?...
Add to my recipe book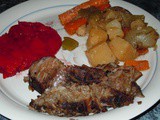 Crock Pot Beef Roast
By Do You Smell That!!?
Subscribe
09/04/11 08:36
All in favor of crock pots, say *I *!!! Me, too. I just love the darn thing. As a matter of fact, I recently entered a giveaway on the Fix-It and Forget-It blog and, out of almost 1,800 entries, I was the lucky winner of all 7 of the cookbooks in their...
Add to my recipe book