Very Good Recipes of Salad from Do You Smell That!!?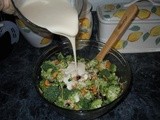 Broccloi Salad
By Do You Smell That!!?
Subscribe
09/16/11 02:02
Seems like we've been doing a lot of pot luck type gatherings lately. I love it! I love getting together with friends & not being in charge of the whole meal. And getting to try out everybody else's recipes is always great, too! In fact, this last BBQ,...
Add to my recipe book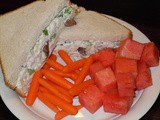 Chicken Salad Sandwiches
By Do You Smell That!!?
Subscribe
07/27/11 22:48
Sometimes in the summer I just don't want a heavy dinner. Tonight was one of those nights. Enter = Chicken salad! It's so light & yummy but filling at the same time. And, a bonus, it doesn't heat up the house! Woo hoo! Let's go! You'll need: Cooked chicken,...
Add to my recipe book