Very Good Recipes of Peanut Butter from Do You Smell That!!?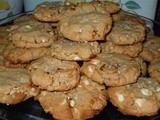 Peanut Butter-White Chocolate-Pretzel Cookies
By Do You Smell That!!?
09/21/11 22:39
My big kid turned 8 this past May - and in our church, that is the magic age that you enter the Scouting program! Unfortunately for him, though, it was also the last month they had any activities before breaking for the summer. Bummer! Just missed it! He...
Add to my recipe book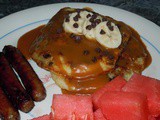 Chunky Monkey Pancakes (Banana, chocolate chip pancakes w/ peanut butter maple syrup)
By Do You Smell That!!?
06/09/11 08:03
I dog-eared this recipe quite a ways back & have been meaning to make it forever. When the gal was talking about spreading her pancakes with peanut butter & then adding the syrup I immediately though of Hubby - he does the same thing. I thought he was the...
Add to my recipe book