Very Good Recipes of Dinner from Do You Smell That!!?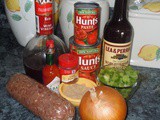 Dad Did Dinner - Again: Sloppy Joes
By Do You Smell That!!?
Subscribe
05/11/11 20:12
I gave Zac the reins in the kitchen again - this time he whipped up a batch of Sloppy Joes! Generally speaking I'm a Manwich girl (they just know what they're doing, right!!?) but he wanted to make up a pan from scratch. And you know I'm not gonna stop...
Add to my recipe book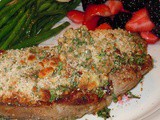 Dad Does Dinner - Blue Cheese Crusted Steaks
By Do You Smell That!!?
Subscribe
03/29/11 07:18
There's a food blog I love called UCreate: Foods & she has this challenge every month called Dad Does Dinner where you're supposed to have your man cook & then blog the meal, just like you would if you'd done it all. Mom gets the night off! Sounds like...
Add to my recipe book