Very Good Recipes of Shrimp from It all tastes Greek to me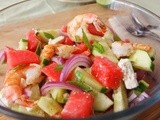 Watermelon, Feta and Shrimp Salad
By It all tastes Greek to me
06/20/14 18:01
Say welcome to summer this weekend with this refreshing light salad. The watermelon and feta combination is a very common in Greece, putting these two ingredients together, adding the elegant shrimp and spicy red onion will get you this amazing summery...
Add to my recipe book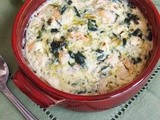 Shrimp, Leek and Spinach Soufflé
By It all tastes Greek to me
04/17/12 00:23
How I love this time of year. I feel like everything is blooming and everything is different. The herbs and greens seem to be full of life and aromas. Today I have a beautiful spring soufflé with spinach, leeks, dill and shrimp. It's a perfect light appetizer....
Add to my recipe book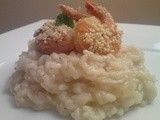 Fennel Risotto with Crispy Sesame Shrimp
By It all tastes Greek to me
11/30/11 22:16
Hello hello!!! It got a little chili today and we even saw some snowflakes.. But.. that was it! I know that for people who live here in Canada for many years, snowing is just so common and normal thing to happen but for me who it's my first year in Toronto...
Add to my recipe book