Very Good Recipes of Zucchini from It all tastes Greek to me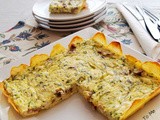 Potato Crusted Zucchini Omelet
By It all tastes Greek to me
08/21/12 15:57
Or clean your fridge omelet ..... But you know... do it in style :) You can use the ingredients you like, it's a playful way to present the omelet, my son just loves it. It is also a great portable lunch. My son is starting his first school year in JK,...
Add to my recipe book
Whole Wheat Tart with Zucchini and Zucchini Blossoms
By It all tastes Greek to me
08/14/12 16:45
I just love these flowers! Back in Greece we are frying them smothered in beer batter, stuffing them with rice and dill and of course we are using them in pie fillings. Today I have a simple way of using them, this tart is perfect if you've never used zucchini...
Add to my recipe book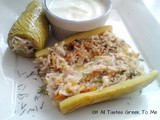 Stuffed Zucchinis with Rice and Mushrooms served with Yogurt (Vegan version)
By It all tastes Greek to me
06/25/12 18:18
First of all I want to apologize for the picture, it was taken by my mobile phone :) This is a dish inspired from a traditional one, in which usually the zucchinis are stuffed with rice, ground beef and they are served with the classic Greek Egg and Lemon...
Add to my recipe book