Very Good Recipes of Coconut from Jasey's Crazy Daisy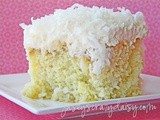 Coconut Pineapple Cake
By Jasey's Crazy Daisy
Subscribe
02/24/12 15:10
It's party time! Two years ago, I started writing this blog on a whim. I had no idea what I was doing or where this little journey would lead to. Not only did I met some amazing friends out Bloggersville, I have learned so much along the way. I cringe at...
Add to my recipe book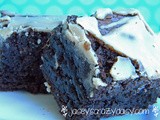 Mocha Coconut Creme Brownies
By Jasey's Crazy Daisy
Subscribe
07/07/11 16:22
I seriously cannot believe I have waited this long to share these with you. What can I say? Life happens! It was a sad day... we lost our little Wheaten, Maya. She got sick. Real sick. She's at peace now. Our hearts are sad, but we are ok. She's not hurting...
Add to my recipe book