Very Good Recipes of Pineapple from Jasey's Crazy Daisy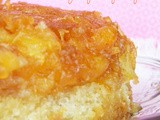 Double Pineapple Upside-Down Cake
By Jasey's Crazy Daisy
06/21/12 19:57
Pineapple Upside-Down Cake... I had never thought much about this cake until a couple of summers ago when visiting my grandparents in Montana for the fourth of July. One of my aunts brought a cake from Costco... a Pineapple Upside-Down Cake. At first, I...
Add to my recipe book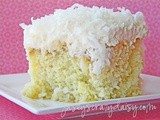 Coconut Pineapple Cake
By Jasey's Crazy Daisy
02/24/12 15:10
It's party time! Two years ago, I started writing this blog on a whim. I had no idea what I was doing or where this little journey would lead to. Not only did I met some amazing friends out Bloggersville, I have learned so much along the way. I cringe at...
Add to my recipe book