Very Good Recipes of Egg from Recipes to cook good food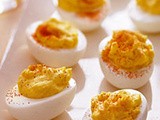 Deviled Eggs Recipe
By Recipes to cook good food
10/27/11 08:17
Deviled Eggs Recipe is an easy Appetizer recipe, but it attains a high quality presentation since they look pretty elegant while serving. These are very popular as Thanksgiving Appetizers too. Proper balance of ingredients to the eggs make Deviled Eggs...
Add to my recipe book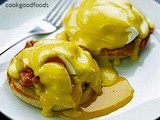 Egg Benedict Recipe
By Recipes to cook good food
10/09/11 06:22
Egg Benedict Recipe consists of English muffin topped with bacon and poached eggs, assembled delightfully to make a really delicious Appetizer. This is an quick and easy Egg Benedict recipe. I have always loved this Egg Benedict Recipe as it totally satisfies...
Add to my recipe book