Very Good Recipes of Pudding from Recipes to cook good food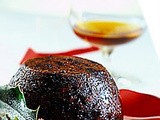 Christmas Pudding Recipe
By Recipes to cook good food
Subscribe
12/04/11 16:57
Christmas Pudding Christmas Pudding, served traditionally on the Christmas day, is a very yummy dish to celebrate the festival and to start the winter. Christmas Pudding Recipe differ from home to home, with different ideas of cooking this pudding and adding...
Add to my recipe book
Easy Yorkshire Pudding Recipe
By Recipes to cook good food
Subscribe
10/01/11 11:55
Yorkshire Pudding is a dish originated in Yorkshire, England and usually served with roasted meat and gravy. It actually goes well with a variety of dinner meals. This pudding is made by baking the batter and is a very simple recipe but a beautiful one.Yorkshire...
Add to my recipe book