Very Good Recipes of Salad from Recipes to cook good food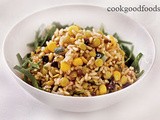 Brown Rice Salad
By Recipes to cook good food
Subscribe
10/07/11 09:53
Brown Rice Salad is a easy but really yummy Japanese Salad. Brown Rice Salad Recipe is really simple to prepare, takes a little time as there are a lots of ingredients involved and takes a little bit of patience but it's worth it. Here is the Recipe for...
Add to my recipe book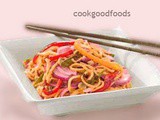 Thai Noodle Recipe : Thai Noodle Salad
By Recipes to cook good food
Subscribe
08/21/11 18:41
Thai Noodle Recipe is a very simple recipe to follow but a great delicacy. Thailand is very popular for its exquisite food cuisine, Thai Noodle is one of a popular Thai dish ingredients, and this recipe of Thai Noodle is a Thai Noodle Salad Recipe. So lets...
Add to my recipe book