Very Good Recipes of Puri from Recipes to cook good food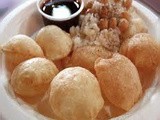 Pani Puri
By Recipes to cook good food
Subscribe
07/17/11 11:14
Pani Puri also known as " golgappa " in Hindi, is a popular street snack in India, Nepal and other southern asian countries.Pani puri's popularity has started hitting on the streets of America, England and many other Western states too. Pani Puri is basically...
Add to my recipe book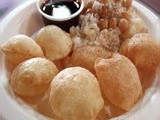 Pani puri recipe
By Recipes to cook good food
Subscribe
07/14/11 15:15
Pani Puri Recipe Pani Puri is a popular Snack dish.. mostly popular as street foods in India, Nepal ...and other South-Asian countries. But popularity of Pani Puri has striked the European and American streets as well. Pani Puri are a little tricky, and...
Add to my recipe book