Very Good Recipes of Spinach from The Recipe Review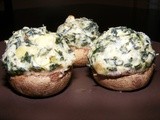 Spinach Artichoke Dip-Stuffed Mushrooms
By The Recipe Review
12/10/11 00:30
I love stuffed mushrooms. I love spinach artichoke dip. What a great combination of the two!!! Not only did I enjoy these, Serena loved them too! I had enough stuff leftover that I made a separate dish of just the dip to use later in the week with crackers...
Add to my recipe book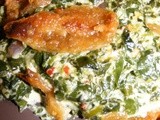 Creamed Spinach
By The Recipe Review
11/28/11 00:30
I knew instantly when I saw this recipe that I had to try it. I was so excited that this could possibly be one of my favorite side dishes. I mean what's not to love about it... spinach, heavy cream, and cheese, all spruced up. Yummy! It was great!! However,...
Add to my recipe book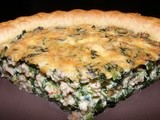 Sausage, Mushroom, Spinach Quiche
By The Recipe Review
10/27/11 13:13
This was by far the best quiche I have ever had! One of the things that I love about quiche is you can do so many different variations by switching up the cheeses and adding different veggies. I just loved this combination and was thrilled that Serena had...
Add to my recipe book