Very Good Recipes of Artichoke from The Recipe Review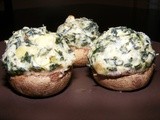 Spinach Artichoke Dip-Stuffed Mushrooms
By The Recipe Review
12/10/11 00:30
I love stuffed mushrooms. I love spinach artichoke dip. What a great combination of the two!!! Not only did I enjoy these, Serena loved them too! I had enough stuff leftover that I made a separate dish of just the dip to use later in the week with crackers...
Add to my recipe book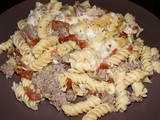 Rotini with Sausage, Artichokes, and Sun-Dried Tomatoes
By The Recipe Review
12/07/11 00:30
This is a recipe that I adapted from one found on Food TV by Giada De Laurentiis. My store didn't have the pasta that her recipe used, I used some things that I had on hand rather than fresh ingredients that she used, and I made mine into a casserole type...
Add to my recipe book