Very Good Recipes of Stuffed from The Recipe Review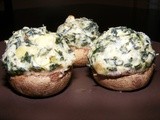 Spinach Artichoke Dip-Stuffed Mushrooms
By The Recipe Review
12/10/11 00:30
I love stuffed mushrooms. I love spinach artichoke dip. What a great combination of the two!!! Not only did I enjoy these, Serena loved them too! I had enough stuff leftover that I made a separate dish of just the dip to use later in the week with crackers...
Add to my recipe book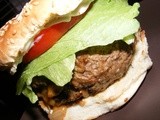 Bacon, Onion and Cheese Stuffed Burger
By The Recipe Review
11/25/11 00:30
The other week as I was working from home on the laptop, comfortable on the sofa, I had the television on, primarily for background noise. I wasn't really paying any attention to it as I was deep in my work but at some point, I got up to stretch my legs...
Add to my recipe book