Very Good Recipes of Banana Bread from What Katie's Baking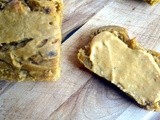 Pumpkin Banana Bread
By What Katie's Baking
Subscribe
11/03/11 05:32
Hey all, I'm having some technical difficulties with my blog right now. I tried adding a new header, but for some reason I keep getting an 'internal error' and my picture won't upload. Until I can get a picture to upload, I'm testing a new format. Let me...
Add to my recipe book
Super Soft Chocolate Chip Sour Cream Banana Bread
By What Katie's Baking
Subscribe
09/27/11 23:17
Food photography is something that every food blogger has probably done some research on. I am by no means a professional, but I have picked up a few tips along the way and in my photography class I took last semester, so I want to share with you guy's...
Add to my recipe book