Very Good Recipes of Brown Sugar from What Katie's Baking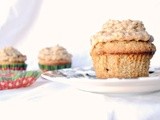 Cinnamon Cupcakes with Brown Sugar Toffee Pecan Buttercream Frosting
By What Katie's Baking
01/10/12 08:23
Every once in a while, creativity strikes. This was one of those times. These cupcakes are cinnamon-y sweet cups of decadence topped off with huge globs of crunchy, sugary frosting...and they're gorgeous. I'm just gonna leave it at that and let the pictures...
Add to my recipe book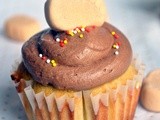 Brown Sugar Pound Cupcakes with Fluffy Chocolate Almond Buttercream Frosting
By What Katie's Baking
12/08/11 20:39
Sometimes, I wake up thinking how great it would be to wake up as Martha Stewart. Then I remember that I don't want to go to jail, so I just go browse her website and live the good part of Martha's life. By baking her marvelous creations, like these amazing...
Add to my recipe book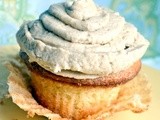 Vanilla Cupcakes with White Chocolate Pumpkin Ganache Filling and Brown Sugar Frosting
By What Katie's Baking
10/25/11 00:18
Holy moly, that's a long title. These cupcakes are worth every word, though. They deserve it. They're fluffy, light cupcakes with a creamy, chocolatey, pumpkiny filling and a thick frosting that has a crunch to it. The textures and flavors are very complimentary...
Add to my recipe book