Very Good Recipes of Caramel from What Katie's Baking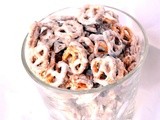 Sweet and Salty White Chocolate Caramel Pretzel Snack Mix
By What Katie's Baking
01/02/12 21:21
I'm not usually the biggest fan of salty and sweet combinations. I'll eat them, but I don't crave them. Until now. I was going to make caramel corn, only to find out that we were out of popcorn, but we did have a bag of pretzels, so I swapped the popcorn...
Add to my recipe book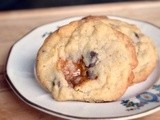 Salted Caramel Chocolate Chip Cookies
By What Katie's Baking
10/25/11 00:16
Halloween is right around the corner and I have no idea what I want to be. I was reading Joy's blog today and all I could think the whole time was, "Thank GOD." Her post was all about how slutty costumes are no bueno and I couldn't agree more. Living in...
Add to my recipe book