Very Good Recipes of Coconut from What Katie's Baking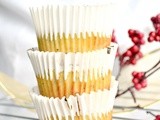 Lemon Poppy Seed Muffins Made With Coconut Flour
By What Katie's Baking
Subscribe
01/06/12 08:05
I've had coconut flour sitting up in the cabinet for about 6 months now. I bought it because it's good for you, it's gluten-free, high in fiber and protein, and I wanted to bake with it. I hadn't done a thing with it, so I looked up "Recipes using coconut...
Add to my recipe book
Wiaw + Healthy Coconut Oil Reese's Peanut Butter Cups
By What Katie's Baking
Subscribe
12/01/11 05:47
I decided to do a "WIAW" post. If you've ever wondered what I eat on a daily basis, be curious no more: (This is from last week and, for the record, I didn't wake up until 12... woops.) Breakfast: Banana soft serve- 2 small bananas + 1 tbsp wheat germ +...
Add to my recipe book