Very Good Recipes of Ours from Celebration Generation
New Editions of our Cookbooks, New Sewing Manual – Preorder now
By Celebration Generation
Subscribe
04/22/13 15:47
As a self publisher that is courteous to the pocketbook of my customers, I frequently find myself at the mercy of available technology and print offerings. I wrote about this almost a year ago, when explaining why my plastic comb cookbooks were about to...
Add to my recipe book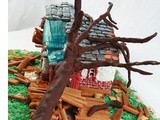 Our "Tornado Smashed" Gingerbread House
By Celebration Generation
Subscribe
12/13/11 16:27
Back on May 22, when a tornado smashed our house, I had no idea how long the road ahead of us would be. I had no idea that, coming up on Christmas, I would be without a kitchen, would still be fighting the city, and that I'd only be beginning to process...
Add to my recipe book