Very Good Recipes of Tomates from Diana's Cook Blog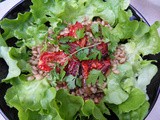 Salade d'orge perlé, tomates confites et oignons caramélisés
By Diana's Cook Blog
10/15/12 17:55
Pendant l'année qu'elle a passée en Angleterre, ma fille a découvert le Pearl barley, ou l'orge perlé,pour la traduction française. Ce sont en fait des graines d'orge qui ont été polies et ont perdu leur germe et une majeure partie de leur couche extérieure...
Add to my recipe book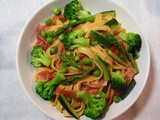 Pâtes aux légumes de printemps, sauce tomate et jambon sec
By Diana's Cook Blog
05/02/12 16:57
Ce que j'aime le plus chez les pâtes, c'est leur incroyable versatilité. Leur capacité à être accommodées à l'infini est une qualité aussi appréciable que la multitude des formes sous lesquelles elles sont déclinées et le fait qu'on peut aisément les garder...
Add to my recipe book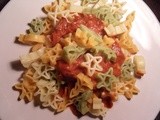 Pâtes de Noël à la sauce tomate, poivron et chorizo
By Diana's Cook Blog
12/29/11 11:19
Peut-on manger des pâtes pour les fêtes de Noël ? Pourquoi pas, si ce sont des pâtes de Noël ! Festives avec leurs formes et couleurs suggestives, elles ont également une très bonne teneur à la cuisson qui leur permet d'égayer les assiettes. On peut aussi...
Add to my recipe book