Very Good Recipes of Apple from Foodiva's Kitchen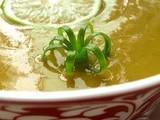 French Fridays With Dorie - Spiced Squash, Fennel and Apple-Pear Soup
By Foodiva's Kitchen
11/10/11 17:07
Soup is cuisine's kindest course. It breathes reassurance; it steams consolation; after a weary day it promotes sociability, as the five o'clock cup of tea or the cocktail hour. ~ Louis P. De Gouy, 'The Soup Book' I've been really atrocious at catching...
Add to my recipe book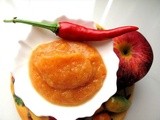 (Almost) Wordless Wednesday - Scotch Bonnet-Thai Chilli Apple Hot Sauce
By Foodiva's Kitchen
10/26/11 07:27
I went vegetable picking at my mother's farm last weekend and came back with plenty of organically grown goodies, including these super sweat-inducing Scotch Bonnets and Thai Chillies. I decided to brave it up and make a hot sauce from them - a REALLY hot...
Add to my recipe book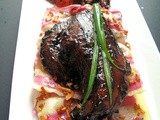 5-Star Makeover: Teriyaki Chicken with Dragonfruit Ravioli and Apple-Plum Chutney, and a Charitable Cause
By Foodiva's Kitchen
09/29/11 07:23
Today marks my first participation in the 5-Star Makeover challenge hosted by Natasha of 5 Star Foodie and Laz of Lazaro Cooks! So honored to be cooking amongst these very creative lot. I've left it till the very last minute because the theme this month...
Add to my recipe book