Very Good Recipes of Oil from Foodiva's Kitchen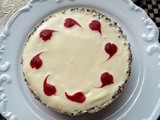 French Fridays with Dorie - Olive Oil Ice Cream Tart with a Quinoa Crust
By Foodiva's Kitchen
06/08/12 18:28
Love is how you stay alive, even after you are gone. ~ Mitch Albom Both my parents hail from big families, with at least 10 siblings on either side. I therefore grew up surrounded by as much love as there was chaos and drama. When our massive family gets...
Add to my recipe book
Muffin Monday - Honey Pineapple Olive Oil Muffins with Lime Glaze
By Foodiva's Kitchen
03/19/12 06:00
These week's muffin recipe for Muffin Monday is another easy one, if you have a bowl, a spatula and a muffin tray, you're all set to make these. The original recipe provided by Anuradha of Baker Street (our host) was for Honey Lemon Olive Oil Muffins with...
Add to my recipe book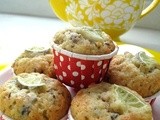 Muffin Monday - Basil Lime Olive Oil Muffins
By Foodiva's Kitchen
10/10/11 06:00
I'm back on the Muffin Monday wagon this week, and what a delicious and healthy recipe we were given to try out. Our host, An of Baker Street provided one of Giada De Laurentiis's recipes to make Olive Oil Muffins. As much as I think butter rules when it...
Add to my recipe book