Very Good Recipes of Butter from Foodiva's Kitchen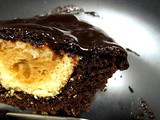 Peanut Butter PieCupcake for Mikey Perillo
By Foodiva's Kitchen
Subscribe
08/15/11 17:32
When you are sorrowful look again in your heart, and you shall see that in truth you are weeping for that which has been your delight. ~Kahlil Gibran I've been a Twitter absentee and I just found out about this so hopefully, I'm not too late. It's already...
Add to my recipe book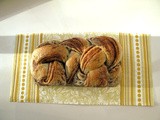 Nutella and Peanut Butter Stripe Bread
By Foodiva's Kitchen
Subscribe
08/11/11 15:57
If you've perused through enough of my posts and recipes, you may have noticed my slight obsession with the creation of stripes, swirls and spirals in my edibles. As well as a borderline addiction to pinks and purples :-). As idiosyncratic as it sounds,...
Add to my recipe book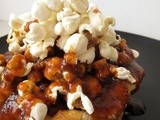 Popcorn Bread Pudding with Salted Butter Caramel Sauce
By Foodiva's Kitchen
Subscribe
07/26/11 17:12
And so on and so forth. Before we are forgotten, we will be turned into kitsch. Kitsch is the stopover between being and oblivion. ~ Milan Kundera, The Unbearable Lightness of Being , p. 278 I don't often venture into the world of kitsch, but today I feel...
Add to my recipe book