Very Good Recipes of Broth from Free Spirit Eater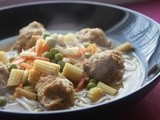 Personal Story & Chicken Udon Soup w/ Asian Vegetables in Spiced Broth
By Free Spirit Eater
Subscribe
01/13/12 08:37
I continue to pursue my goal of altering my lifestyle to make myself healthier. After years of rolling my eyes as my doctor warned me of the repercussions of remaining my size. I'm not that fat. I asserted myself. I had heard you're fat basically my entire...
Add to my recipe book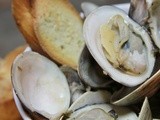 Steamed Clams in White Wine Garlic Broth
By Free Spirit Eater
Subscribe
11/11/11 18:32
I remember the first time I looked at a pale gray clam staring back at me on a dinner plate. The mere thought of slurping up something that smelled exactly like the ocean mortified me. A family member allowed me to try a piece, but alas the chef had not...
Add to my recipe book