Very Good Recipes of Prawn from No-Frills Recipes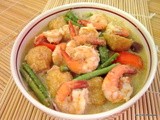 Soymilk Assam Prawns
By No-Frills Recipes
02/23/12 09:24
A delicous yet easy to prepare mouth-watering sourish curry dish which will definitely tantalise your tastebuds. Instead of coconut milk, I used sugarless soymilk and it tasted just as good. This dish will make you refill your bowls or plates with more...
Add to my recipe book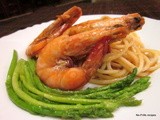 King Prawn Spaghetti
By No-Frills Recipes
10/31/11 03:28
A n 'East meets West' straightforward one-dish meal ~ Spaghetti cooked 'al dente', laced with King crustacean cooked in Asian oyster sauce with baby asparagus on the side. This is a three-in-one dish of carbohydrates, protein, dietary fiber cum vitamins...
Add to my recipe book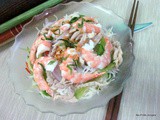 Prawn and chicken vermicelli salad
By No-Frills Recipes
06/02/11 05:25
I made this seafood rice vermicelli salad and it's not just an appetiser or starter for me. It doubled up as another one-dish meal for my dinner and although it's light, it can be filling too ..... and what's more, it's really delicious! This is indeed...
Add to my recipe book