Very Good Recipes of Bean from This Designer Cooks
Coming out of the Bubble: Green Beans and Tofu in Peanut Tamarind Sauce
By This Designer Cooks
11/09/12 03:41
So this is the week we have all been returning to work, chugging forward with alternative transportation routes. This storm as thrown us all for a loop and not a moment goes by when I am not floating between the emotions of guilt and gratitude. We thankfully...
Add to my recipe book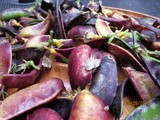 Finding Eggs and Shelling Beans
By This Designer Cooks
06/12/11 23:45
I was eight and my brother was four when we were introduced to our grandparents. It was the first summer of many we spent in the mountainous region of Southern Lazio, Italy where our father is from. It was a long, stuffy journey for us but the air got progressively...
Add to my recipe book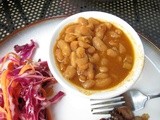 The Classics: Baked Beans
By This Designer Cooks
06/04/11 15:45
Another summer barbecue, classic side dish. This side is so easy that I can not believe I have ever eaten it out of a can. ( I also can't believe I just admitted that to you.) This past grilling endeavor on my husband's part was a great opportunity to for...
Add to my recipe book