Very Good Recipes of Chicken from This Designer Cooks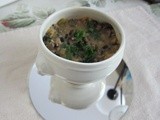 Sipping Once, Sipping Twice, Sipping Chicken Soup with Rice
By This Designer Cooks
Subscribe
05/16/12 01:21
Maurice Sendak, you will be missed. You understood so well the loneliness children feel with their inability to articulate their feelings. You understood that childhood is not all sweetness and innocence but also the first phase of struggles to overcome....
Add to my recipe book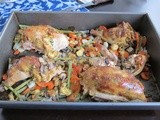 Hungarian Stuffed-Under-the-Skin Chicken
By This Designer Cooks
Subscribe
01/10/12 02:52
I made this last month to bring to a Chanakah dinner and I have been craving it ever since. Every year I am invited to my sister-in-law's family Chanakah dinner. We gentiles come bearing gifts but leave the traditional cooking to those who know it best....
Add to my recipe book