Very Good Recipes of Egg from This Designer Cooks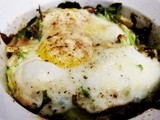 Dinner for One: Baked Eggs and Brussels Sprouts
By This Designer Cooks
09/30/11 01:43
I have been cooking for two for so long I forgot what it was like to fend for myself. But I do have many single friends and most cook for themselves. There is a popular opinion that when you are one person it is easier and just as cheap to get take out...
Add to my recipe book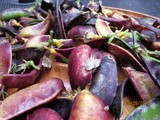 Finding Eggs and Shelling Beans
By This Designer Cooks
06/12/11 23:45
I was eight and my brother was four when we were introduced to our grandparents. It was the first summer of many we spent in the mountainous region of Southern Lazio, Italy where our father is from. It was a long, stuffy journey for us but the air got progressively...
Add to my recipe book