Very Good Recipes of Soup from This Designer Cooks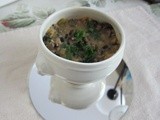 Sipping Once, Sipping Twice, Sipping Chicken Soup with Rice
By This Designer Cooks
Subscribe
05/16/12 01:21
Maurice Sendak, you will be missed. You understood so well the loneliness children feel with their inability to articulate their feelings. You understood that childhood is not all sweetness and innocence but also the first phase of struggles to overcome....
Add to my recipe book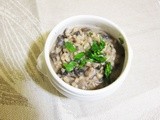 Dinner on the Fly: Mushroom and Barley Soup
By This Designer Cooks
Subscribe
04/14/11 19:20
This rainy night I needed comfort food. It is work to be an optimistic person and I openly accept the challenge. Anything worth having can not be attained without the fair amount of effort including a sunny disposition and the unrelenting push forward into...
Add to my recipe book