Very Good Recipes of Potato Salad from This Designer Cooks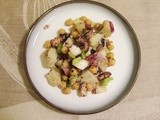 Dinner on the Fly: Octopus Potato Salad with Pancetta and Mint
By This Designer Cooks
01/15/12 05:13
Let's demystify octopus, shall we? It is not that complicated, People. You can make it for dinner on an ordinary day and it is no big deal. So what are you afraid of? It was fine when you ordered it in that Spanish tapas place. Of course it was already...
Add to my recipe book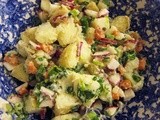 The Classics: Potato Salad (Greenpoint Style)
By This Designer Cooks
05/18/11 18:44
At our house, the first warm day that my husband takes out his grill is potato salad season. I love a good potato salad particularly because it is such an easy side for a casual get together. One labor day I brought it to a luncheon at a friend's family...
Add to my recipe book