Very Good Recipes of Butter from This Designer Cooks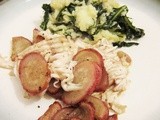 Dinner on the Fly: Skate and Radishes in Anchovy Brown Butter and Olive Oil Mashed Potatoes and Dandelion Greens
By This Designer Cooks
Subscribe
04/29/12 21:21
In the spirit of Spring let me post this dish. Walking around Essex market I was stopped by some dandelion greens. There is only one time of year when you see them. Unlike asparagus which you can get all year round but probably shouldn't, dandelion greens...
Add to my recipe book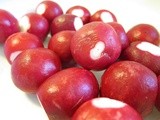 More Signs of Spring: Butter Braised Radishes with Herbs
By This Designer Cooks
Subscribe
04/20/11 06:28
If you have never thought to cook a radish before this post is for you. Think of all the classic flavor marriages you have come to know: bacon and eggs, peanut butter and jelly, hamburgers and french fries. Now let me add radishes and butter. I know that...
Add to my recipe book