Very Good Recipes of Chutney from Blessings From My Kitchen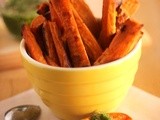 Sweet Potato Fries and Green Chili Chutney
By Blessings From My Kitchen
Subscribe
11/13/12 07:26
Orange. It just seems that all things made right is contained in this simple color. Such a fan am I that the many shades cast in this orange-scopic color range, whether it be dusty coral, gorgeous vermilion, even anemic salmon take my breath away, make...
Add to my recipe book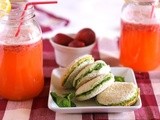 Chutney Sandwich and Strawberry Mango Lemonade
By Blessings From My Kitchen
Subscribe
06/08/12 10:40
Hello summer! A long one undoubtedly, living in a land that unquestionably has four seasons- tolerable, hot, very hot and ARE YOU KIDDING ME??? This is our first official summer in a state now considered our new home, where every other day carries a precautionary...
Add to my recipe book