Very Good Recipes of Fried Chicken from Blessings From My Kitchen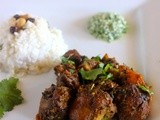 Masala Fried Chicken
By Blessings From My Kitchen
Subscribe
05/31/12 08:34
I choose not to pigeonhole this recipe as curry, but it could be just that. Curry- in fried, zestfully sizzled form, scuppered up with a slight masala. I'm calling this humdinger of a dish, masala fried chicken. Why? a) I came up with the recipe several...
Add to my recipe book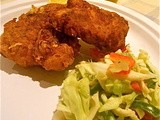 Spicy Fried Chicken with Cabbage Slaw
By Blessings From My Kitchen
Subscribe
02/20/12 08:39
So, who wants fried chicken for dinner? Ha, is that even a question to be taken seriously? With a loud chiming the 3, my two kids and the bigger one (the hubmeister) chimes in or screams, I should say, YESS!! Oh yes, it is a favorite here. I don't like...
Add to my recipe book