Very Good Recipes of Coconut from Blessings From My Kitchen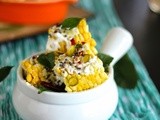 Corn in seasoned coconut milk
By Blessings From My Kitchen
04/04/14 01:55
The story I will tell in the next few sentences is not really to inspire, or draw example from. Nor should it allow those haplessly wanton desires to control every decision, your outcome and utter your final destiny. A few weeks ago, my roadfaring ways...
Add to my recipe book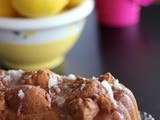 Lemon Coconut Loaf
By Blessings From My Kitchen
02/14/13 21:46
This next recipe evolved as a deep set need (read: insane craving) to consume whole yellow citrus in an edible and fairly appealing way. Yes, a citrus lover's dream come true, or maybe my solution to the visions that chase me down, of mammoth lemons trying...
Add to my recipe book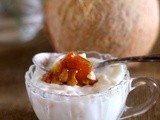 Tender Coconut Lychee Pudding With Crushed Praline Topping
By Blessings From My Kitchen
06/05/12 09:01
This is yet another culinary blueprint from my sis- in- law, Annies' SOAR (stash of awesome recipes). If you don't know who Annies is by now, then you should check here. Being a cooking connoisseur has given her an edge on the finest recipes and a keen...
Add to my recipe book