Very Good Recipes of Honey from Jenny Eatwell's Rhubarb & Ginger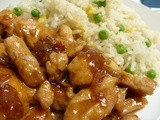 Honey Sauced Chicken - simply scrummy
By Jenny Eatwell's Rhubarb & Ginger
04/29/12 17:10
Last Wednesday was a bit of a busy one for us, as we'd fixed to go over to my parents' place in Hampshire (just the next county - not a million miles away!) to collect their compost bin. As they are getting on in years, Mum (the gardener of the family)...
Add to my recipe book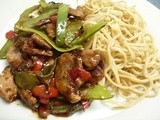 Stir-fried pork with ginger & honey : another quick, satisfying supper
By Jenny Eatwell's Rhubarb & Ginger
01/11/12 10:51
Harking back to the previous post (Lemony Prawn & Chorizo Rice), this is another one cropped from the Good Food Magazine. February's magazine seems to have been a fund of interesting recipes, perhaps because the emphasis is on "healthy" instead of "expensive...
Add to my recipe book