Very Good Recipes of Ice cream from Jenny Eatwell's Rhubarb & Ginger
Almost-instant Raspberry Ice-cream
By Jenny Eatwell's Rhubarb & Ginger
Subscribe
03/03/12 22:58
Dear hubby has been perfecting his technique at making Almost-Instant Ice-cream, using frozen bananas. I do believe he cracked the formula with this last lot - so I asked him to write a guest post, telling you all about it : Now, this ice cream recipe is...
Add to my recipe book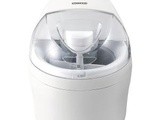 Ice cream maker - hubby's new toy
By Jenny Eatwell's Rhubarb & Ginger
Subscribe
10/03/11 13:33
Yes, we've finally succumbed to the regular appearance of an ice cream maker on t.v. cooking shows - and bought one. In our defence, I would say that it was half-price in the local Comet, so it could have been worse. It's the Kenwood IM200, which can make...
Add to my recipe book