Very Good Recipes of Vegetable from Blessings From My Kitchen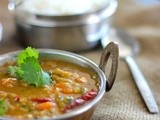 Sambar- South Indian lentil and vegetable stew
By Blessings From My Kitchen
03/14/13 19:46
Confession time. Even though I've discussed Indian and touched on a few good recipes from my homeland, I've always thought myself least accomplished on earth to talk curry, most particularly the traditional stuff that hails from the Southern topographical...
Add to my recipe book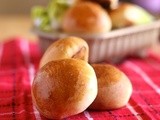 Vegetable Curry Bun
By Blessings From My Kitchen
09/09/12 09:08
The Curry Bun. A clever invention made popular to meet a region's need for curry and starch. It satisfies the Indian's fierce appetite for spicy along with a fair share of grain. With more than half the population of India favoring rice as their number...
Add to my recipe book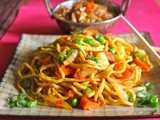 Chilli Chicken and Spicy Vegetable Noodles
By Blessings From My Kitchen
03/06/12 19:27
Ranking as favorite cuisine in India, next only to the local fare, is Chinese food. As the saying goes, the Chinese love their rice and noodles, so do Indians- Chinese rice and noodles, done the Indian way. Not always authentic though, it can be called...
Add to my recipe book