Very Good Recipes of Pea from The Galley Gourmet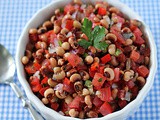 Black-Eyed Pea Salad
By The Galley Gourmet
07/14/11 15:01
This right here is a beauty of a dish. The way it looks is just the start. This is one versatile bowl of beans. Mainly, it is an excellent summer side dish to sandwiches and grilled meats, like the Brown Sugar Chicken. It is also perfect to pack for picnics...
Add to my recipe book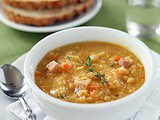 Yellow Split Pea and Ham Soup
By The Galley Gourmet
04/28/11 13:00
The past few days have been cool and rainy. Good for the flowers, but not good for the spring soccer season. This a comforting bowl of soup to warm the body. The yellow split peas are packed with fiber, they are good for the heart, and they also help stabilize...
Add to my recipe book