Very Good Recipes of Pasta Salad from The Galley Gourmet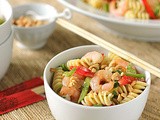 Asian Pasta Salad with Shrimp, Red Pepper, and Honey Roasted Peanuts
By The Galley Gourmet
05/31/12 14:29
It is just about time for picnics and summer potlucks. And when you have a picnic or summer potluck, there is a calling for a pasta salad of some sort. They are quick, relatively easy to prepare, and they feed a crowd. But the one thing I do not care for...
Add to my recipe book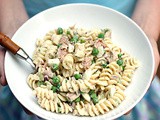 Twisted Tuna Pasta Salad
By The Galley Gourmet
06/09/11 14:58
Can one have too many summer pasta salad recipes? They are perfect for my household because I can make a large batch for dinner, have leftovers for work, and some more to pack for picnics at the park or beach. Good, portable food in my house is a plus!...
Add to my recipe book