Very Good Recipes of Apple from The InTolerant Chef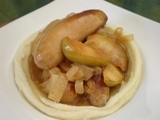 Beer Braised Pork Sausages with Apple and Onion
By The InTolerant Chef
03/17/13 01:22
Beer is not something I'm terribly familiar with A beverage based on barley and wheat is not my go-to drinky-poo, I usually enjoy a nice cold wine and soda on a hot day, or a GnT if I want something a bit more special. I had heard the odd rumour that there...
Add to my recipe book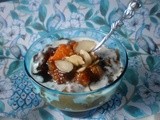 Sweet Apple Quinoa Compote
By The InTolerant Chef
10/11/11 14:43
I love cookbooks. Google is fine for some things, but there's just nothing like holding something concrete in your hands and flicking through the pages. I have books from all cuisines and disciplines, from Commercial Catering to Kiddies parties, and of...
Add to my recipe book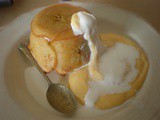 Apple and Almond Cakes
By The InTolerant Chef
09/01/11 08:09
Happy Spring Dear Readers! I love the warmer weather, opening all the windows to flush any wintery funk from the house and letting in the sweet scent of blossoms wafting on the breeze! Where I live we have blossom trees everywhere, pink and white puffs...
Add to my recipe book