Very Good Recipes of Chicken from The InTolerant Chef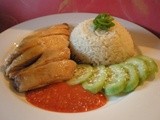 White Cut Chicken
By The InTolerant Chef
01/13/13 11:44
Have you ever had someone spoil a favourite dish? One you really, really love, but for whatever reason has had the joy taken out of it through a bad experience, nasty comment, or just plain guilt tripped for you? This is what happened to me with my White...
Add to my recipe book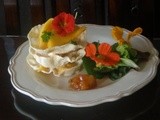 Pappadam Chicken Stacks
By The InTolerant Chef
01/06/12 13:45
Continuing my series of food-that-can-be-made-with-half-an-arm, is this yummy fun pappadam stack. All you need to do is stir, press, and get someone else to slice, how easy is that? I don't know about other countries or cultures, but here in Australia,...
Add to my recipe book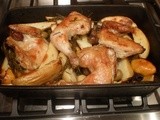 Winner Winner Chicken Dinner
By The InTolerant Chef
09/20/11 06:40
Do you happen to know Newtons Second Law? I was recently asked to explain this law by littlej, who is a very bright bunny indeed. Never one to admit defeat (or failings) I replied "Never Eat More Than You Can Lift" For this attempt I received a raised eyebrow,...
Add to my recipe book