Very Good Recipes of Roll from The InTolerant Chef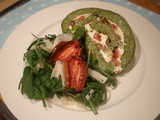 I'm On a Roll
By The InTolerant Chef
06/20/11 12:51
Flushed with the success of my Sponge Roll earlier in the week, I was inspired to revisit an old friend of mine, the Rolled Spinach Quiche. I'm craving some fresh tasting greens and this is stuffed full of greeny goodness. Watercress has a nice bit of iron-y...
Add to my recipe book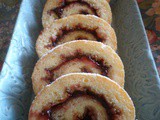 Jammy Sponge Roll
By The InTolerant Chef
06/16/11 13:34
A lovely old fashioned favourite today Dear Readers, Jammy Sponge Roll. One of the most basic cakes and one every chef should have in her bag of tricks. What lovely basic ingredients too- flour, eggs and sugar. Can't get much simpler than that! Here in...
Add to my recipe book